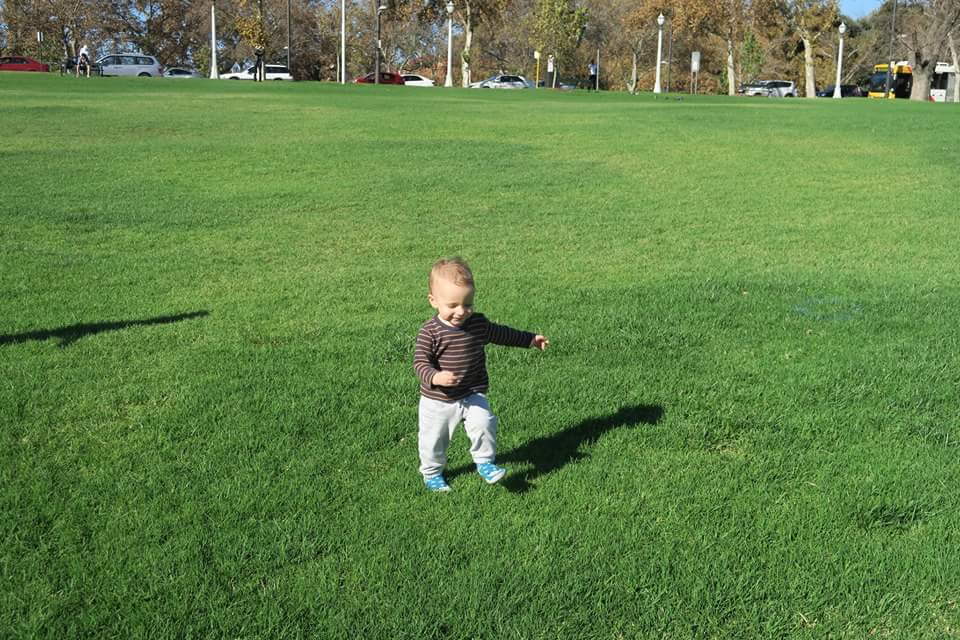 Are we there yet? A guide to travelling with kids
"Are we There Yet?: A Mum's Guide for Traveling with Kids" is a guest post by Christine.
So let me start by introducing myself…
I am Christine, a mother of a gorgeous son, William, who is almost 1.5 years old. Let me tell you, I understand all the anxieties and moments most people without kids take for granted as being simple – especially going through this as a first time Mumma!
There have been two occasions in my son's life where we needed to travel. One by car and one by what I truly dreaded – the plane!
"Are we There Yet?: A Mum's Guide for Traveling with Kids"
Survival Guide Traveling by Car
When my son was almost one, we decided we would celebrate the huge occasion of his 1st Birthday at my husband's parents, which is in Melbourne (we live in Sydney). I cannot tell you how anxious and nervous I was knowing we would be spending hours and HOURS in a car with a bub who just found his feet and couldn't sit still for more than 10 mins (not to mention his broken sleeps in the day!). How would I ever make it through?
Let me tell you – writing a list is key for any travel you will be doing. You will not only feel prepared when it comes time to pack, but also can tick off each item and know everything is there when you will need it.
What was on my list?
Dummies (some Mum's are against this, and that is fine! But my boy loves his dummies to settle and this was so important for the journey).

Food (We chose packet foods for his lunch and dinner if we didn't have a chance to stop and it was his lunch/dinner time. We did cut up fruit for the first day trip so he had a nice healthy snack, favourite treats and also some teething rusks to keep him busy (keeping a close eye on him of course!)).

Bottle

Formula

Water

Nappies

Wipes

Bib

Change of clothes (I took another 2 outfits in case)

Toys (lots of toys to alternate but that weren't huge – a mix of books, small electronic toys and plushies)

Favourite music (Can't tell you how much this helped when it was time for a nap!).

Travel Cot (we stayed overnight in Wagga on our way down to Melbourne, most places will provide one at an additional charge – however we brought our own as we would be needing it once we got to Melbourne).

Sleeping Bag
We chose to stay overnight to break up the trip on the way to Melbourne (on the way back William was content so we did the drive in one day) and take lots of breaks and pit stops along the way.
Survival Guide: Traveling by Plane

My husband and I were so excited for our first trip as a little family, we were headed to Adelaide and heard so many beautiful things about the city – however this trip involved a plane. William by this stage was almost one and a half – so what kept him amused at almost one wasn't going to work now (we all know how quickly they change!).
Again a list was very important before I even started packing, I started the list a couple weeks before and would add things as I remembered them – I always think this is key.
What was on my list?
Dummies (this helped with take-off and landing to keep the pressure in his ears stabilised with swallowing)

Baby Neurofen (this was just in case the pain was intolerable for him)

Sippy Cup (again this was to help his ears, and to keep hydrated on the flight)

Extra bottles of water (for refills and also to fill bottle when it's time for formula)

A bottle

Formula (this settles my baby when he is really upset)

Formula storage carton (I bought this from the pharmacy and I can't tell you how helpful it has been – you can measure the scoops beforehand so it's perfect and you have enough for about three feeds)

Favourite snacks (My son loves the Raferty's yoghurt puffs – so much so he didn't make a peep for take-off and landing with them!)

Toys which are easy to pop in a bag – I bought his favourite book, snuggly toy and an electronic one

iPad (yes controversial – but it worked! The Fisher Price apps are wonderful)

Nappies

Nappy Bags

Change of clothes x2

Bib

Hand sanitizer or disinfectant wipes (I get paranoid when flying – you are in close proximity with so many people so keeping bubs and your hands clean is important as to not pay for it later!).

Tissues
This was a short flight of 2 hours, and all of these things came in handy and made for an enjoyable flight with William. He was happy and so were Mummy and Daddy!
I will share with you the amazing kid-friendly finds we found in Adelaide soon – it truly is one of the best cities to go as a family with kids of all ages. We will be back – and this time I won't be dreading the flight ☺
---
Help other new and expecting parents:
Click here to register and start reviewing your favourite baby products.
Join our email list to stay up-to-date on new products, exclusive promotions, and giveaways:
Click here to subscribe.
Connect with us on social media:
Facebook
Twitter
Instagram
Pinterest
PIN THIS POST!
Save