7 thoughtful baby shower gifts PLUS $800+ giveaway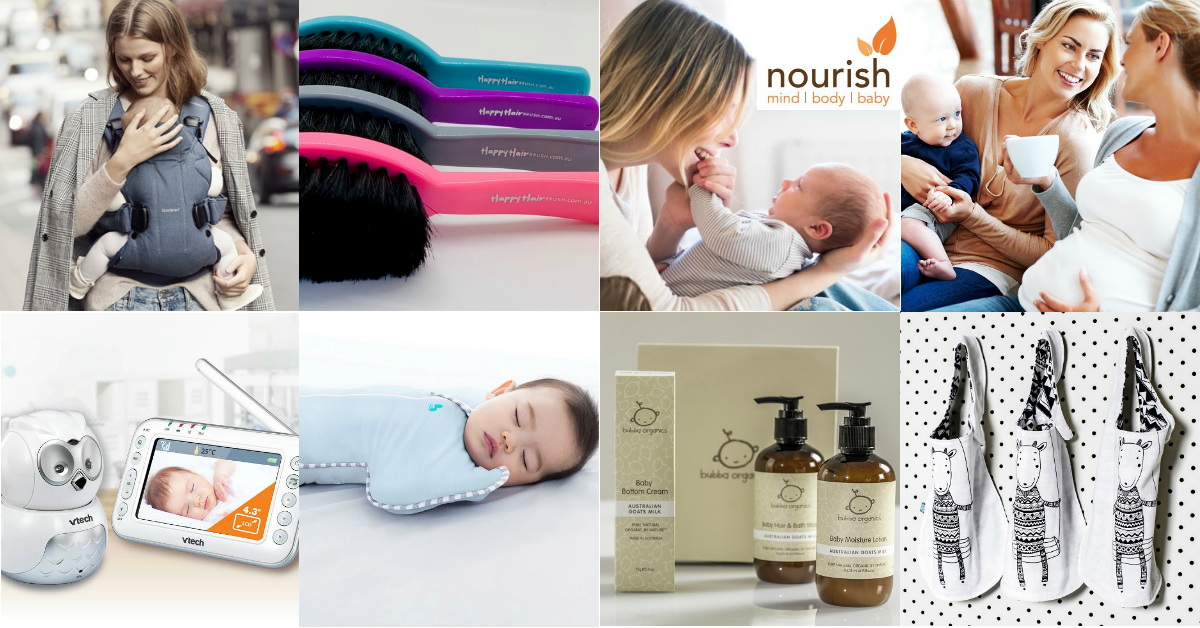 When our friends and family bring a new baby into the world, we want to find them the perfect gift to celebrate the happy occasion!
But what does 'perfect' mean to you?
Does it mean a thoughtful baby shower gift that will delight them or make their life easier?
Or perhaps something unique they wouldn't have thought of getting for themselves?
We've put together a guide of baby shower gift ideas to suit all budgets and tastes, so the next time you're buying for a new baby, we hope these ideas give you inspiration.
But wait – what if you could WIN some these gorgeous new baby gifts too? You can!
We're giving away a selection of beautiful new gifts for new babies – find out more below.
7 baby shower gift ideas
1. LOVE TO DREAM SWADDLE UP™
The multi-award winning LOVE TO DREAM SWADDLE UP™ is a beloved sleep-time essential for many new parents.
The SWADDLE UP™ is the original zip-up swaddle that allows babies to sleep in a more natural ARMS UP™ position, encouraging babies to SELF-SOOTHE™ by allowing them access to their hands to their mouth, which leads to better, longer sleep.
With its simple one-zip fastening and certified 'hip healthy' design, it makes safer swaddling simple, in just a couple of seconds, which is a must during middle-of-the-night feeds and nappy changes!
We're giving away a LOVE TO DREAM™ Gift of Sleep set, featuring this beautiful swaddle.
DISCOUNTS!
For 15% off the SWADDLE UP™ 1 TOG Original, use the code TMB15 here.
You can also get 20% off Gift of Sleep Sets now using the code TMB20 here.
Limited stock available. Offer valid until September 3rd 2019.
Find out more about the LOVE TO DREAM SWADDLE UP™ here and read and write reviews on it here.
2. Bubba Organics Australian Goats Milk Baby Essentials Gift Box
Formulated with 100% fresh Australian Goats Milk, this scent-free Bubba Organics range boasts only the purest ingredients to ensure soft, protected skin for precious bubba from day one.
This healing range harnesses the wholesome goodness of pure shea butter, calendula, aloe vera & olive oil along with 100% fresh Australian goats milk offering a little touch of natural baby skin care luxury that loves the planet as much as it loves your bubba.
This Essentials Gift Box makes the perfect gift for the arrival of a tiny new person with everything required to gently and safely cleanse and nourish bubba's fragile skin.
Each beautiful presented gift box contains Australian Goats Milk Baby Bottom Cream 75g, Australian Goats Milk Baby Hair & Bath Wash 250ml and Australian Goats Milk Baby Moisture Lotion 250ml.
Find out more about the Bubba Organics range here and read and write reviews on it here.
3. BabyBjorn Baby Carrier One
The BabyBjorn Baby Carrier One is a soft and ergonomic babywearing choice that makes it easy for parents to give their baby the important closeness that strengthens the parent-child bond from day one. It also allows them to be hands-free while keeping their new baby snug and close!
The flexible fabric lets them carry their newborn baby in a natural position and is easy and safe to use.
Parents can choose from several front and back babywearing options to carry their baby, up until they are three years old, with comfort and support.
Find out more about the BabyBjorn Baby Carrier one here and read and write reviews on it here.
4. Nourish Baby Guide to Babies Course
New babies do not arrive with their own handbook, but a new parent can give them the best possible start in life with Nourish Baby's Guide to Babies course.
The first 12 months of life are a period of incredible growth in all areas of a baby's development.
In this course, a new parent can learn how early relationships can promote healthy brain development, how young babies build social and emotional skills, and ways they can support their baby's language development starting from birth.
They will also discover how to understand and care for their baby, the key milestones to watch out for, as well as sleep and settling advice and more.
Find out more about the Guide to Babies Course here.
5. VTech BM4500-OWL Pan & Tilt Video Monitor
The award-winning BM4500-OWL monitor by VTech gives new parents peace of mind by the ability to see their baby at all times, day and night!
This clever monitor features two-way communication, allowing parents to talk to their little one through the monitor as well as to hear them.
It has infra-red for night use and a digital zoom, plus can play five lullabies to soothe babies to sleep.
The parent unit can even view up to four baby units (additional cameras sold separately) – so ideal for families with multiple children too.
Find out more about the VTech BM4500-OWL Pan & Tilt Video Monitor here and read and write reviews on it here.
6. A Happy Hairbrush just for babies
The Happy Baby Brush, designed by mums, is a gentle and effective baby hairbrush that brushes hair whilst gently massaging baby's scalp at the same time.
Its clever black bristles help to remove dead skin cells and cradle cap off the scalp, keeping your baby's hair and scalp clean.
All the baby Happy Hair Brushes are animal product free, cruelty free and 100% vegan. Check out Happy Hair Brush as they've got a brush for every family member.
Find out more about the Happy Hairbrush range here.
7. Gilly Goat Bib & Wash Cloth Set and Heat Bag
Proudly Australian owned and made, Gilly Goat is a premium lifestyle baby brand with products designed from nature for sensitive little souls. Gilly Goat creates baby and children care essentials that are as useful as they are beautiful.
The Gilly Goat Bib and Washcloth Set features the signature Gilly Goat Reversible Bib that makes mess time a fun time!
It's made from beautiful ultra-soft double layer cotton jersey, is absorbent and super gentle on little delicate faces. Plus, it has an easy Velcro closure and is machine washable for easy maintenance.
Gilly Goat's Washcloth is perfect for bath-time, featuring a double sided two weave cloth made from pure cotton. Its super soft finish brings gentle, soft-to-the-touch cleaning and Gilly sweetness to baby bath time.
The Gilly Goat Heat Bag is the perfect bedtime companion! Super cuddly and totally adorable, warm-hearted Gilly Goat is guaranteed to keep baby cosy and relaxed for hours.
Suited up and ready for sleepy-byes or rest time, in a bold black and white jumpsuit, Gilly Goat makes a lovely and fun companion to help warm little toes on cold winter nights.
Filled with Australian-grown soothing Lavender and natural Wheat, Gilly is the perfect warming friend and natural sleep aid.
Click here to find out more about Gilly Goat and you can read and write reviews on the range here.
We hope these ideas for baby shower gifts have helped you choose the perfect present.
Giveaway time!
Would you like to win all the beautiful gifts above?
We're giving away an amazing prize to one lucky Tell Me Baby reader, who will win all these products in a pack valued at $831.75. They'll receive:
1 x LOVE TO DREAM™ Gift of Sleep Set and Premium Eye Mask in Grey, worth $49.95
1 x Bubba Organics Australian Goats Milk Baby Essentials Gift Box, worth $79.95
1 x BabyBjorn Baby carrier One in Midnight Blue Cotton, worth $229.95
1 x Nourish Baby Guide to Babies Course, worth $39
1 x VTech BM4500-OWL Pan & Tilt Video Monitor, worth $289
1 x Happy Hairbrush Mum and Bub Pack (grey, teal, pink or purple), worth $80
1 x Gilly Goat Bib & Washcloth Set, worth $13.95, and a Gilly Goat Heat Bag, worth $49.95
To enter to win, simply enter your email address into the giveaway form below. Competition ends September 11, 2019.