Brought to you by Little Bellies
Keeping a toddler entertained at home isn't easy. One fun way to pass the time is with craft.
The great thing about crafting with kids is that it doesn't have to be anything fancy and you can organise the activities quickly with items you (hopefully) already have around the house.
From homemade playdough to toilet paper roll craft, here are nine simple craft ideas your kids will love.
1. Paper plate jellyfish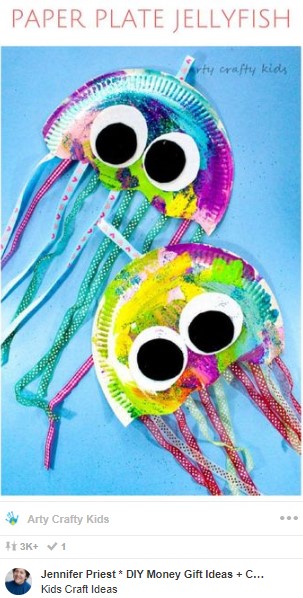 Perfect for letting your little one's pure artistic imagination come to life – and all you need is paint, a paper plate and anything that resembles tentacles.
For more information, visit Arty Crafty Kids.
2. Popsicle stick superheroes
There are many benefits to superhero play in early childhood. Combine that with crafting your kid's very own superhero figure, and you've just doubled the positives for this activity. Made from popsicle sticks and paper, kids will love making and playing with their superhero.
For instructions on how to get started, visit Glued To My Crafts.
3. Paperchain pythons
For the snake lovers out there, you're going to need paper, scissors, glue, markers and a printer to print the template for this craft activity. Your kids will be hissing around the house in no time. (We aren't sure if this is a good thing or a bad thing.)
For more information and to download your template, visit The Craft Train.
4. Forky
The newest addition to the Toy Story franchise, Forky was created by Bonnie from a spork, a pipe cleaner, some googly eyes, clay, and a popsicle stick – and we're so glad she did. Sure you can buy a toy Forky at the shops, but making your own sounds like a much better idea to us.
Visit Simple Everyday Mom for instructions on how to make Forky.
5. Homemade Playdough
If you've got flour, you're halfway there. Homemade playdough is perfect for little ones to squish between their fingers, moulding it into whatever their heart's desire. Throw in a cookie cutter or two, and your kids will play for hours.
For a simple playdough recipe, visit the Happy Toddler Club.
6. Egg carton craft
Think twice before binning those egg cartons; they are craft gold. You only have to search on Pinterest to see what we mean!
To get your egg-carton-craft juices going, we recommend this caterpillar craft by Raising Hooks – or, if you've got a truck-obsessed toddler, you can try turning an egg carton into a firetruck thanks to this tutorial from The Craft Train.
7. Sticky wall ghost
Why should ghosts just be for Halloween? Try this ghost sticky wall craft any time of the year – or adapt into other shapes, like a fluffy sheep or a rabbit. It's adorable and also really easy – you'll just need some contact paper and cotton balls.
Visit Happy Toddler Playtime for the set of instructions.
8. Homemade stamps using potatoes
This is a classic creative activity that also helps little ones develop fine motor skills. If you've got some potatoes hidden at the back of your cupboard, you could turn them into stamps for a fun afternoon of stamping.
Head to Housing a Forest for instructions on how to make your own stamps.
9. Smush paint
Painting without the mess; sounds too good to be true, right? Wrong! Grab some paint, paper, a sturdy zip-lock bag and before you know it your child's latest work of art will be hanging on the fridge.
Go to the Happy Toddler Club for more instructions.
Have an opinion about the pregnancy or baby products you've tried? Of course you do! Join our community and earn rewards by reviewing baby products from home. By reviewing products you've tried and tested, you'll earn points that can be exchanged for vouchers at Coles, Target and Kmart! Sign up here and start sharing your reviews.
Read more: