The Nuna Demi Grow stroller blends style with practicality to meet the ever-changing needs of growing families. This stroller is capable of transitioning from a single to a double stroller with seamless ease. Whether you have one child or two, the Demi Grow has you covered!
We asked two wonderful mums from the Tell Me Baby community, Jessica and Jackie, to try out and review the Nuna Demi Grow stroller as part of our Roadtester program. Read on or watch the video below to find out what they thought about this product.
From Jessica's Review:
After trialing this stroller, I have found it is easy to push and has a great turning circle. The handlebar is comfortable to hold and is adjustable so you can get it to the correct height for you. I was impressed with the magnetic buckle, it makes buckling bub into his seat very quick and easy! I also love the sun shade, it contains the dream drape that can be unzipped and pulled down which provides great coverage. The included rain cover fits well and would provide full protection when it rains.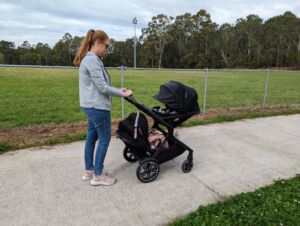 From Jackie's Review:
This pram is lightweight considering it can convert to a double and moves with ease, there is so much padding to keep baby snug and cozy. I love that it fully reclines and there is room for growing children.. because it fully lays back and makes it nice for baby when asleep, and you can continue on with your walk shopping. Easy Older children can clip themselves in with easy use clips. This pram is made with quality material and parts which is good for long term and growing families.
As we can see from Jessica and Jackie's reviews, one of the standout features of the Demi Grow is its high-quality construction and attention to detail. The stroller boasts sturdy wheels that handle different terrains effortlessly, making it a smooth ride for both parent and child. The seat and headrest are luxuriously soft, ensuring your little one's comfort. Assembling this stroller is a breeze, and there's no need for tools – it all just clicks into place, taking approximately five minutes to set up fully.
This stroller is also versatile, with two different wheel suspension settings that adapt to various surfaces. The sibling seat offers plenty of legroom, even for taller children, and with the sibling seat detached, you'll find ample storage space below the main seat. Overall, the Nuna Demi Grow stroller's innovative design and functionality make it a top choice for families seeking both quality and convenience in a single-to-double stroller solution.
Disclaimer: The mention of specific brands and products, such as the Nuna Demi Grow stroller, is for informational purposes only. The reviews provided by Jessica and Jackie reflect their personal experiences, and individual results may vary. Parents are encouraged to explore various options and consult with experts or authorized retailers for personalized advice.

Leave your own review for the Nuna Demi Grow Stroller here.