By Livia Gamble
You want the best your unborn baby and in some cases, that means taking the best pregnancy vitamin. But with so many products to choose from, a simple purchase can easily be turned into a confusing decision.
So which product is right for you? To help you figure that out, the Tell Me Baby community has rated the best pregnancy vitamins they've tried and shared their opinions on what has, or hasn't, worked for them. (Read pregnancy vitamins reviews.)
You can also see our pregnancy vitamins comparisons.
Here are the seven best pregnancy vitamins that our community love.
1. Qiara Pregnancy & Breastfeeding
A popular option for many mums in our community, Qiara Pregnancy & Breastfeeding contains the patented probiotic strain Lactobacillus Fermentum CECT5716 which may help maintain a healthy microflora and restore the balance of good bacteria in breastmilk. One Tell Me Baby mum said: "I really struggled with mastitis, blocked ducts and nipple thrush in the first few weeks, once I started taking Qiara everything cleared up and I never got a blocked duct again!"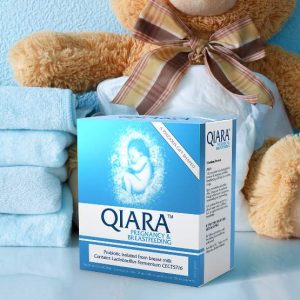 Read Qiara Pregnancy & Breastfeeding reviews.
2. Fabfol Pregnancy
Another great option that may help keep mums healthy during pregnancy, Fabfol Pregnancy contains Folic acid, Iodine, Chelated Iron, Vitamins C & B Complex and Zinc. Many mums said they took these without feeling sick or constipated.
Read Fabfol Pregnancy reviews.
3. Blackmores I-Folic
Blackmores I-Folic is a combination of iodine and folic acid – two important nutrients needed for the health and development of your baby. The small size is a big plus for many mums who can't swallow large tablets. One mum said she has intolerances that prevent her from taking a normal pregnancy multivitamin – so this product was exactly what she needed.
Read Blackmores I-Folic reviews.
4. Life-Space Probiotic for Pregnancy & Breastfeeding
A favourite brand for many of our mums. Life-Space Probiotic for Pregnancy & Breastfeeding Contains 15 different strains of premium quality beneficial bacteria to support a healthy microbiome and general wellbeing. AS one mum said: "I was having trouble with my internal workings and this helped sort out my issue." But the best part is that you don't have to keep these in the fridge.
Read Life-Space Probiotic for Pregnancy & Breastfeeding reviews.
5. Blackmores Pregnancy Iron
For pregnant women worried about their iron levels, this product may help. While some iron products may cause constipation, Blackmores Pregnancy Iron is gentle on the digestive system. One Tell Me Baby community member said: "I started taking these and my iron ended up being perfect by the time I gave birth."
Read Blackmores Pregnancy Iron reviews.
6. Blackmores Pregnancy & Breast-Feeding Gold
Another great option from Blackmores, Blackmores Pregnancy & Breast-Feeding Gold contains essential nutrients for both mother and baby, before, during, and after pregnancy.
Read Blackmores Pregnancy & Breast-Feeding Gold reviews.
7. Elevit Pregnancy Multivitamin
Containing all the essential vitamins and minerals pregnancy women need, Elevit Pregnancy Multivitamin gets a thumbs up from our community. Mums said taking it gave them peace of mind that it contained everything they needed.
Read Elevit Pregnancy Multivitamin reviews.
Have you tried any of these prenatal vitamins? Join our community and share your opinion on them. By reviewing baby products you've tried and tested, you'll earn points that can be exchanged for vouchers at Coles, Target and Kmart! Sign up here and start sharing your reviews. 
Read more: