By Mim Jenkinson, sponsored by Edenvale
Pregnancy is a time of joy. So is Christmas. So what happens when you're pregnant at Christmas – does that mean double the fun?
Well, it might depend on who you ask or how far along you are, but for me, I spent more time relaxing and taking in the festivities that I normally would – usually I'd have been the one frantically rushing around, organising everything and everyone.
There was also a lot of lovely talk about how next year would be my baby's first Christmas!
Yes, there were a few small downsides too. I lacked the energy I usually had, I couldn't enjoy a tipple and had to avoid most of the cheese plate. How is it that when you can't have something, you want it all the more?
With just a bit of forward-planning, there's no reason why you need to miss out at Christmas when you're pregnant.
1. Take it steady
Whether you're only a couple of months in to your pregnancy or reaching the finish line, you might be struggling with fatigue and tiredness. Rest up when you can and pace yourself a bit more than you usually would.
If you're travelling at Christmas time, taking regular breaks to rest or move around can really help too.
2. Enjoy a different tipple
For me, alcohol was off the table. That said, there's something so festive about sipping a glass of something bubbly and I didn't want to miss out on that.
Edenvale's range of alcohol-removed wines includes reds, whites and sparkling wines that are fit for all celebratory occasions. For pregnant women or breastfeeding mothers, it means we have an option to clink glasses with our friends and family and enjoy a great quality wine, minus the hangover (bonus!).
Some other great options for non-alcoholic drinks include mocktails, juices and smoothies.
3. Eat wisely
Don't worry, I'm not about to tell you what to eat! However, if you're suffering from heartburn or indigestion during your pregnancy then consider eating smaller meals and more frequently.
Get advice from your midwife or GP on the best foods to eat and those foods to avoid when pregnant.
During my pregnancies, I found grazing small snacks throughout the day helped keep the heartburn and reflux at bay.
Make sure to stay hydrated too and have glasses of water throughout the day.
4. Accept offers of help
Hosting Christmas lunch at your house? Ask for help!
Enlist family members to bring food, help set up and entertain other guests so you're not rushing around too much.
If your guests ask if they can bring something or help tidy up before they go, say YES! After a long day of celebrating, you'll want to put your feet up at the earliest opportunity.
Also remember that at Christmas time, some services are closed or operating limited hours. Plan ahead make sure that, should you need to, you have someone who can take you to the GP or hospital.
5. Sleep in!
If this is your first baby, this might be the last chance for a Christmas Day sleep in you will get for a number of years. Make the most of it!
This time next year, your bundle of joy will be running (or crawling) in circles around you. Hurray!
Being pregnant at Christmas was one of the most treasured memories from both of my pregnancies. During the first one, it was an exciting time for me and my partner where we knew that the following year, we would be a family of three.
Second time around it was just as special, knowing that a sibling was on the way for my daughter to play with!
If you're pregnant this Christmas, enjoy it! There are so many ways to enjoy Christmas when you're pregnant without feeling like you have to avoid everything fun. Making a few small changes and looking after you is the key.
ABOUT EDENVALE WINES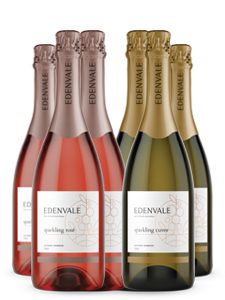 Edenvale Wines are safe to drink during pregnancy and breastfeeding and have an average finished alcohol level of approximately 0.2-0.3% Alcohol/Volume. This is a similar level to that found in natural fruit juices. It also has at least the same levels of antioxidants as full alcoholic wine.
Edenvale is currently sold through stockists and online websites, such as Dan Murphy's, Coles, Woolworths and IGA. You can also buy it online at www.shopedenvale.com.au.
If you have any concerns about consuming Edenvale Wines during pregnancy or breastfeeding, seek advice from your GP.
Read more: 
What to buy for baby's first Christmas
What you need to know about alcohol and breastfeeding